Wednesday, December 27, 2006
My Year in Cities 2006
I'm just copying what
Kottke
is doing.
Make your own list!
Here's my list in chronological order:
Las Vegas
Philadelphia
Boston
*Portland, ME
*Montreal
Sherbrooke, QC
Bennington, VT
*Brattleboro, VT
*several visits
Not the most exciting list in the world.
JD and I at Pyzzz Pizza in Putnam, CT
Friday, December 22, 2006
This is such a cool photo....
This is the Rexall Drugstore in Waldoboro, Maine.
I don't know why I like it so much... maybe it's the lighting and the colors and the timeless quality of it.
I found the picture somewhere on the internet. It was taken by a photographer named John Alphonse. I don't know anything about him, but he's got some great stuff.
This is his website: http://realitytimes.com/alphonse.html
Joe Tea
I love iced tea, but the problem with most iced teas is that they are so loaded with artificial flavorings or sweeteners that they either taste like a soft drink or they just taste terrible. Also, it's not easy to find plain old unsweetened iced tea. Trader Joe's sells big jugs of black tea... really good... but not very convenient.
So this past summer I stumbled on Joe Tea.
It's out of New Jersey, of all places. Kind of hard to find, I think. The only place i've been able to find it is in the cooler of the True Value Hardware store in downtown Brattleboro, Vermont.
(I have to crop that photo. That red box is a bank, BTW.)
This is basic, excellent iced tea. Tea leaves, water... lemon if you want it... that's it.
G Tom Mac
You've never heard of this guy.
His name is Gerard McMann. He's a well-known L.A. musician. Back in the '80's, he released two of my favorite albums, including the amazing "Blue Rue", and it's follow-up "No Looking Back". He also did some of the soundtrack to the 80's Jan Michael Vincent action movie "Defiance". He's also played on a bunch of Roger Daltry albums.
Now McMahon has a new moniker: G Tom Mac.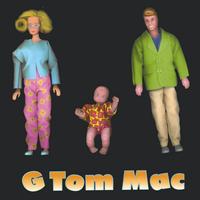 Eh, it doesn't exactly roll off the tongue, but that hardly matters. His music is as good as ever. If you have a spare buck to spend, check out the live version of his song, "Cry Little Sister", available on iTunes. Great arena power pop.
Thursday, December 14, 2006
Blogging to plateau in 2007?
FROM THE BBC

Blogging 'set to peak next year'
The blogging phenomenon is set to peak in 2007, according to technology predictions by analysts Gartner.
The analysts said that during the middle of next year the number of blogs will level out at about 100 million.

The firm has said that 200 million people have already stopped writing their blogs.

Gartner has made 10 predictions, including stating that Vista will be the last major release of Windows and PCs will halve in cost by 2010.

Gartner analyst Daryl Plummer said the reason for the levelling off in blogging was due to the fact that most people who would ever start a web blog had already done so.

He said those who loved blogging were committed to keeping it up, while others had become bored and moved on.


A lot of people have been in and out of this thing
Daryl Plummer, Gartner


"A lot of people have been in and out of this thing," Mr Plummer said.

"Everyone thinks they have something to say, until they're put on stage and asked to say it."

Last month blog tracking firm Technorati reported that 100,000 new blogs were being created every day, and 1.3 million blog posts were written.

Technorati is tracking more than 57 million blogs, of which it believes around 55% are "active" and updated at least every three months.

Gartner also predicted that:


By 2010, the average total cost of ownership of new PCs will fall by 50%

By 2010, 60% of the worldwide cellular population will be "trackable" via an emerging "follow-me internet"

By the end of 2007, 75% of enterprises will be infected with undetected, financially motivated, targeted malware that evaded their traditional perimeter and host defences

The Cheese-in-a-Can Wars Get Ugly
I spotted THIS on the shelf at WalMart the other day. It appears a third party has now entered the fray. Yes, it's easy at first glance to dismiss this as a bargain basement knock-off that can't hope to compete with the long established King of the genre - Easy-Cheese (aka Snack-Mate)... or the well-funded upstart Cheez-It. That's until you look closer. This is PEPPER JACK! There has never before been a Pepper-Jack version of cheese-in-a-can. And it's being sold at WalMart... so it's positioned perfectly for its key demographic. This may be the opening of a new whole theatre in the cheese-in-a-can conflict.